Diana Fambe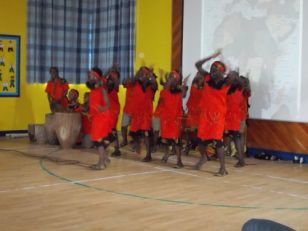 I am an eight year old girl from Uganda, East Africa. I live with my mother. I am a member of the African's Children's Choir now touring. I enjoy singing, dancing, meeting new friends and learning about other parts of the world as I travel.
Life in Uganda is not east, but thanks to your help, I will be able to receive support in Christian love.
My Home
The foods we enjoy are very different from what you are used to. We like to eat things like posho(white maize that looks like rice), roasted maize over charcoal, matooke(somewhat like mashed green bananas, usually served with peanut sauce), chapatti(flat bread, like a tortilla) and for a treat we eat Mandazi(a kind of donut). Meat is very expensive, so we eat beans.
our favourite beverage is chai(tea made with equal parts of milk and water, with tea leaves added and brought to a boil), all served with lots of sugar.
Thank you for making a difference in my life. Your love and care are much appreciated.
Thank you for being my sponsor.
Love Diana
Bready Jubilee Primary School, 12 Cloghboy Rd, Bready, Strabane BT82 0DN | T: 028 7184 1319