School Governors
The new board has just recently formed and will continue until 2017. The school governors meet regularly to discuss and make decisions on budgeting, staffing and curriculum issues.
Chairman
Rev G Orr
Transferor Representatives
Rev I Lyttle
Mr C Kennedy
Mr R Rankin
Parents' Representatives
Mrs W Barnett
Mrs L O'Neil
Teachers' Representative
Mrs J Anderson
Board Representative
Mrs D Christie
Mrs R Donaghy
Secretary
Mr B Guthrie (principal)
School Development Plan
The Governors, alongside the principal, Mr Guthrie, and staff prepare a School Development Plan to ensure future development, best practice and resources for our children.
Development plan 2015/16
Some of the new developments planned for this year to enhance learning at our school are:
To further raise standards in reading through the use of Bug Club Online, helping parents get their children reading more.
To introduce the use of 'Doodle Maths' in helping raise standards in Numeracy.
Joining an Extended Schools cluster group in the Strabane area to provide more learning opportunities for both pupils and staff.
Literacy support teacher for those children who need extra support with reading.
Numeracy groups identified to receive 'boost' work in particular areas of the subject.
Further development and update of our whole school writing scheme.
Update Numeracy resources throughout school.
Change format of end of year report.
New school website.
Continue to improve our environment, ICT Suite, tidy up courtyard, Sensory Garden, hallway carpet and painting of classrooms.
PE Scheme and Policy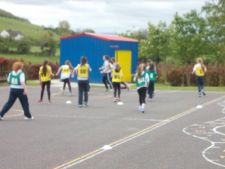 With our new updated PE policy in place this year and a new scheme of work, PE coverage throughout the school is to the highest standards. Each area of the NI PE Curriculum is being taught through a creative and cross curricular way.
Bready Jubilee Primary School, 12 Cloghboy Rd, Bready, Strabane BT82 0DN | T: 028 7184 1319